2015-06-04
Overview


A bunion is a firm, fluid-filled pad overlying the inside of the joint at the base of the big toe (metatarsophalangeal joint). The pad (bursa), which may get larger and stick out, can become inflamed and painful. Bunions may run in families, but many result from wearing tight shoes. Nine out of 10 bunions are developed by women. Nine out of 10 women wear shoes that are too small. Tight shoes also can cause other disabling foot problems like corns, calluses and hammertoes.
Causes
The main cause of bunions is excessive pressure being placed on the front of the foot, and is usually the result of wearing high-heeled shoes with pointed toes. A study by the American Orthopaedic Foot and Ankle Society found that 88 percent of women in the United States wear shoes that are too small and that 55 percent of them have bunions. Overall, bunions are nine times more common in women than men. In some cases, bunions are hereditary; they also may be caused by arthritis or polio.

Symptoms
The most common symptoms of foot bunions are toe Position, the toe points inwards towards the other toes in the foot into the hallux adbucto valgus position and may even cross over the next toe. Bony Lump, swelling on the outer side of the base of the toe which protrudes outwards. Redness, over the bony lump where it becomes inflamed. Hard Skin, over the bony lump known as a callus. Pain, it is often painful around the big toe, made worse by pressure on the toe and weight bearing activities. Change in Foot Shape, Your whole foot may gradually change shape for example getting wider. Stiffness, the big toe often becomes stiff and may develop arthritis. Foot bunions are more common with increasing age. They develop gradually overtime from repeated force through the big toe and left untreated, become more pronounced with worsening symptoms.
Diagnosis
Although bunions are usually obvious from the pain and unusual shape of the toe, further investigation is often advisable. Your doctor will usually send you for X-rays to determine the extent of the deformity. Blood tests may be advised to see if some type of arthritis could be causing the pain. Based on this evaluation, your doctor can determine whether you need orthopaedic shoes, medication, surgery or other treatment.
Non Surgical Treatment
Conservative Treatment. Apply a commercial, nonmedicated bunion pad around the bony prominence. Wear shoes with a wide and deep toe box. If your bunion becomes inflamed and painful, apply ice packs several times a day to reduce swelling. Avoid high-heeled shoes over two inches tall. See your podiatric physician if pain persists. Orthotics. Shoe inserts may be useful in controlling foot function and may reduce symptoms and prevent worsening of the deformity. Padding & Taping. Often the first step in a treatment plan, padding the bunion minimizes pain and allows the patient to continue a normal, active life. Taping helps keep the foot in a normal position, thus reducing stress and pain. Medication. Anti-inflammatory drugs and cortisone injections are often prescribed to ease the acute pain and inflammations caused by joint deformities. Physical Therapy. Often used to provide relief of the inflammation and from bunion pain. Ultrasound therapy is a popular technique for treating bunions and their associated soft tissue involvement.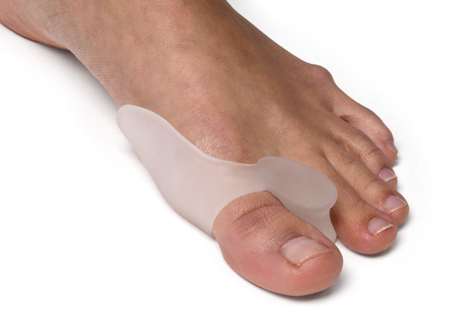 Surgical Treatment
Conservative bunion treatment methods help to reduce the symptoms but they cannot undo changes in the bone to fully correct the condition. If the pain becomes severe and it starts to affect your daily life, then foot bunion surgery may be the best option to correct a hallux abducto valgus. There are a number of different surgical options, depending on the severity of the bony deformity. The two most common types of surgery are Osteotomy. This is the most common type pf surgery and involves removing part of the bony lump and realigning the toes. It is also known as a bunionectomy or exostectomy. The ligaments around the big toe may also need realigning and this will be done at the same time if necessary. Fusion.This is where the joint at the base of the big toe (metatarsophalangeal joint) is fused together, known as an arthrodesis. This is only indicated in severe cases or if other treatments have failed as it severely limits the movement of the big toe.
Prevention
Bunions often become painful if they are allowed to progress. But not all bunions progress. Many bunion problems can be managed without surgery. In general, bunions that are not painful do not need surgical correction. For this reason, orthopaedic surgeons do not recommend "preventive" surgery for bunions that do not hurt; with proper preventive care, they may never become a problem.
Rodyk draugams